April 1, 2020
Pivot again... COVID-19 Questionnaire and Care Pathways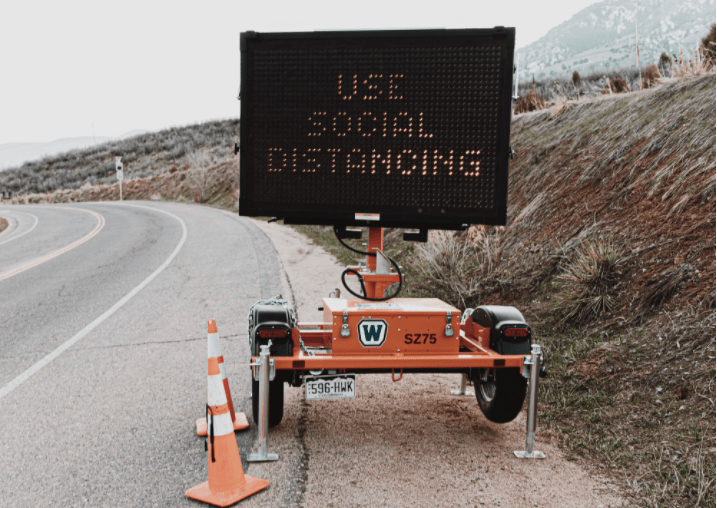 Coronavirus (COVID-19) is having a wide-ranging impact across the globe.  We are looking to build solutions to address some of the most pressing problems such as risk communication, knowledge gaps, response management, and more that have been laid out back in February 2020 by the Report of the WHO-China Joint Mission on COVID-19.
---
Innovation during these uncertain times has been quite a challenge, and we'll admit, staying focused and user-centric as the facts change everyday is harder than ever.  We are coping with this by creating a think-tank of physicians, futurists, technology gurus and healthcare executives to guide us through what specific problem we should use our decision making capabilities to tackle. Email us at omar@asha.health or leave a comment here if you would be interested in being part of our conversation.  
---
Our nation's ability to cope with the peak of the outbreak will be determined by how well we leverage our healthcare resources. Here is a picture of how we believe the flow should look like, according to the people we have engaged:
(Please leave us your thoughts in the comments, this is meant to evolve and grow!)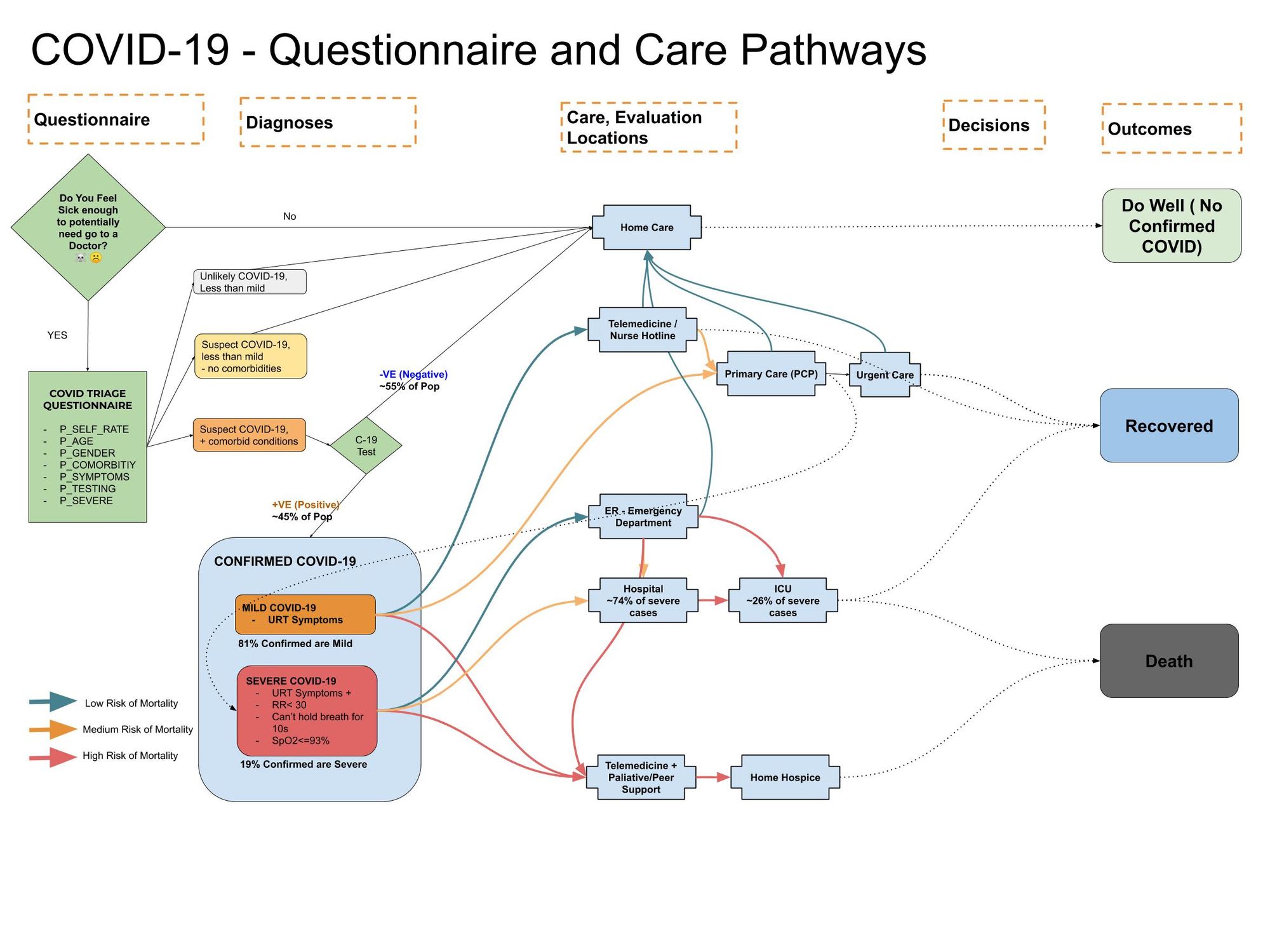 What kind of experts are we engaging?
We have been engaging with a variety of variety of healthcare professionals to discuss and prioritize innovate solutions that we can tackle.  
Informatics hospitalists understand cutting-edge technology and bring innovate solutions to the table to discuss.  They intimately understand how the system is connected, what levers to pull, and look to optimize for the best outcomes.
Communications specialists understand the importance of clear and concise messaging during a time of crisis, especially to individuals with a variety of experiences.
Hospital system executives can roll out support systems across a range of point-of-care practitioners and healthcare workers.  They are interested in implementing solutions from a macro point of view.
What kind of expertise do we have at Asha Health?
Clinical Data Analytics. We have implemented large clinical data projects with the largest payers and hospitals in the US, and have an in depth understanding of HL7 standards and EMR integration.
Data Science. Together we have built over 80 machine learning use cases helping providers and payers optimize care and disease management for patients.
Data Visualization. We specialize in telling healthcare stories from various angles and have supported top executives figure out what the best decision of action is at any given time by bringing their data to life via various enterprise and web-based tools.
What do healthcare systems need?  
Healthcare systems have some amazing, dedicated resources.  However, that system is going to be stretched to the limits with an overwhelming number of patients needing critical resources such as inpatient beds, ICU beds, ventilators and more.  To address this task, hospitals are creating command centers, monitoring what's going on, doing these things in-house.  However, there is still a big need for data and insights to:
Predict capacity - Even at low estimates of 20% of the population many states will see hospital bed capacity exceed 400%  of the need according to this New York Times article.  Knowing what to expect from a patient load may require decision support processes to help choose or prioritize patients that need care.  At the very least the public should understand how hospitals intend to make these decisions.
Predict staffing - Along with capacity, the demand management needs to be put into place to manage the number of patients that will come through the door.  Whether they need hospitalization or should be sent back home to deal with milder symptoms, some staff person will need to physically interact with each person coming to the clinic.  Proper guidance around expected numbers of people and expected frequency of COVID-19 cases will allow efficient staffing to meet the needs while giving unnecessary resources the time to recharge.
Other critical needs - In addition to the healthcare experts, there is also a need to plan for everything else that goes along with the "flatten the curve" considerations.  This includes materials and capabilities such as ICU beds, masks (N95), patient queuing, and non-hospital resources such a social isolation timelines and expectations.
Data and insights will guide the hard decisions
The numbers provide a compelling story for the overwhelming burden that we already see on hospital systems in Italy and even in the US in New York City.  With the delayed and occasional non-response to social isolation techniques across the US, hospitals in many more areas will be dealing with a similar burden.
So, how does a healthcare system or even an individual hospital assign care to individuals with a limited number of resources?  Tough discussions have to take place and new resources need to be made available.
How do you decide who gets the ventilator if, for example, the monthly demand expects 5 patients per 1 available ventilator within a region (500% of capacity)?  At the core to this process, we are talking about defining and using an ethics systems.  Several of these come to mind:
Do you give it to the person who needs it the most?  This would imply a rank-score system for those with the most severe diseases, highest mortality rate, and highest likelihood to benefit from treatment.  Scores can be calculated and assigned based on a variety of factors including co-morbid diseases, severity of symptoms, etc.  In the example above, the 5 patients would be evaluated through some calculation or algorithm and only the one with the highest score would be given access to the ventilator.
Do you prioritize healthcare workers?  A utilitarian system that favors care to those with the most value to a system could be put into place.  Again, scores could be calculated based on factors that are agreed to fit the utilitarian model.  In the example above, only those in the top 20% (1 out of 5) would meet the threshold.
Do you give it to anyone that walks in the door in the order they come in?  This follows a first-come, first-served system that treats each patient in the order by which they arrive at the facility.  This is essentially how hospitals act today.  Anyone who meets the criteria to need a ventilator would be given it based on immediate availability, regardless of how many patients they expect will need the same bed before it becomes available.
Do you give everyone the same chance, regardless of when they walk in the door or whom needs it the most?  A lottery (random chance) system would accomplish this by estimating the available capacity for the expected time frame the resource (bed) will be occupied and giving each person an equal chance at it. Using our example above with 5 patients needing a single ventilator, every person who was determined to need that ventilator would be given a number 1-5, and only the patients getting a specific number, say 3, would get the ventilator.
Each of these options would have some sort of threshold drawn according to the expected demand, available capacity and expected length of time a resource will be occupied.  Those who do not get access would need to be supported by other means such as palliative care or specialized telemedicine lines.
We are not recommending any of these systems over the others.  However, if a unified system does need to be put into place, the practitioners making these decisions will need a tool to help them do it equally or fairly across the entire system.  Imagine an app that would tell a point-of-care practitioner the number of available resources (beds) and the expected number of patients needing it in the next 20 days.  Depending on the ethics system chosen above a practitioner would be advised based on a score, random number, or whatever the system prescribes.
What do we need to do with these tools?
Relevancy - Decision making information has to be provided as near real-time as possible. Yes, data needs to be fresh and relevant, but the insights gathered from the available data need to flex with the individuals being evaluated and treated.  The data and tool needs to provide granular, personal recommendations so the global context fits with the available tools, capacity, and encounter at-hand.
Build from decisions (capture decisions) - There are many great minds working at the point-of-care to provide the best outcomes for every patient.  However, unless decisions are captured while we work, we will not be able to identify the best practices until the dust settles.  Capturing decisions will allow everyone to work better in the next wave by seeing best results.
A Feedback Loop - After decisions are captured, we need to go back to the physicians and show them how the outcomes have improved or worsened based on the decisions taken earlier, and what recommendations there are to improve.
---
Interested in joining the conversation? Drop us an email at omar@asha.health with your background and interest.